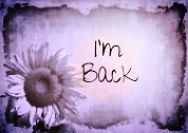 I closed this blog in December 2012.  So much was going on both physically and mentally, that I was incapable of maintaining it, or writing or doing much else.  Also, I believed that "Living In Stigma" had served its purpose in addressing mental illness stigma, and it was time to close up shop. But, the issues remain, and as months moved by this year and I was on the mend, I began to miss posting and keeping up with news stories and information to include in this blog. 
Mental illness stigma is still widespread; however changes have been made marginally.  So, I've decided to open my blog again and deal with these concerns, and share some new articles and issues of my own.  We have to get the word "stigma" out there also. 
I've been struggling with depression on and off since 1994, and am presently back in the black hole trying to battle my way to top again.  I've also gained another problem, this time an eating disorder.  This is a story all on its own.  I'll share that in a posting at a later date. 
Living in Stigma does serve a purpose, and when it closed it I received numerous e-mails enquiring why and when I would restart.  Many thanks to all of you who sent best wishes.  I missed everyone, and mostly, I missed my blog. 
Well, I'm back. 
Deb